Greetings from the Chair of the Municipal Federation
The Ylä-Savo Municipal Federation of Education and its Ylä-Savo Vocational College is an active, diverse vocational education institution. The current municipal federation was founded in 1964, but vocational education has been organised by YSAO and its predecessors in Upper Savonia for nearly 150 years now. We are headquartered in Iisalmi, but our training opportunities are available in a wide geographic area comprising our physical learning environments, with digital learning solutions available independent of location.
We employ over 220 experts of different fields. Our extensive partner network allows us to create expertise for our customers' needs in a wide and diverse array.
The Ylä-Savo Vocational College, YSAO, serves as the coordinating party for the Upper Savonia expertise partnerships. We can assist businesses in various training needs and provide cooperation through university-level vocational education with other educational institutes in the area.
The international aspect is an essential part of our operations. We have partnered with educational institutes and others in several dozen countries. This offers our students a multitude of training opportunities outside the borders of our country as well. Businesses and other organisations, on the other hand, can find opportunities for networking and developing their own business operations with new partners.
Don't be afraid to contact our experts, or simply go ahead and visit us!
Let's find you or your organisation a suitable package for developing competence!
Developmentally yours,
Kari Puumalainen
Chair of the Municipal Federation of Education, Rector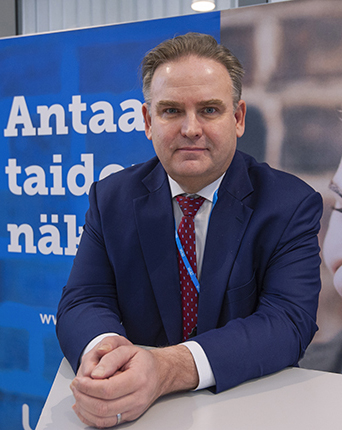 Values
The Ylä-Savo Municipal Federation of Education is always guided by two core values –trust and responsibility.
Strategic Goals 2022–2026
Development of new services
Services primarily implemented via eYSAO
Competence management is based on customer needs
Take a closer look at YSAO's strategy outline and video (in Finnish only).
Vision 2026
The goal of the Ylä-Savo Municipal Federation of Education is to be a customer-oriented, resilient organisation. This means our service production must meet the needs of students and employers both on a national and international level. We work proactively, and our activities are flexible and capable of reinvention in a rapidly changing environment.
Owner Municipalities
The Ylä-Savo Municipal Federation of Education is owned by the eight municipalities in the Upper Savonia area.